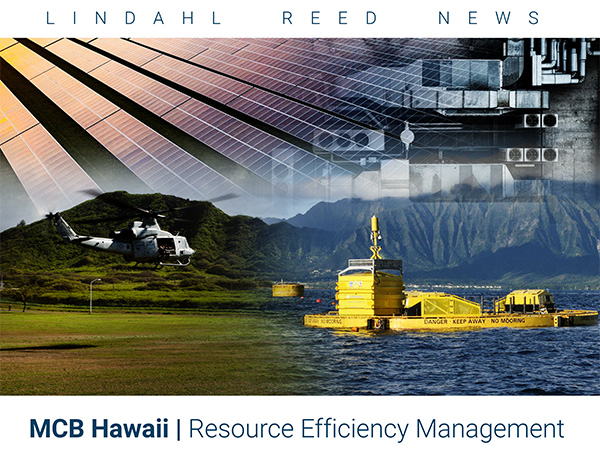 Lindahl Reed was awarded a 5-year contract by the Marine Corps Base (MCB) Hawaii to provide Resource Efficiency Management (REM) services in support of base energy management and energy resilience requirements.  Under this contract Lindahl Reed provides a systematic and holistic approaches to managing energy, water, environmental, and financial resources to enhance MCB Hawaii's energy program performance. We focus on reducing energy consumption, improving energy efficiency, and increasing energy resilience while also reducing greenhouse gas emissions and operating costs.
REM services are a core capability of Lindahl Reed.  We bring leading edge knowledge and experience with DoD energy policy, program planning and execution, demand side management, energy resilience, high performance buildings, and climate change.  Our leadership team has more than 20 years of experience developing and managing cutting edge REM programs. Lindahl Reed supports DoD Headquarters, regional commands, and installation level energy program requirements, and brings insights, best practices, and partnerships to deliver comprehensive energy solutions and services to the Marine Corps and other federal customers.
"Lindahl Reed is thrilled to support MCB Hawaii's energy program requirements to enhance mission readiness and energy security," said Nicole Hough, Lindahl Reed President and Chief Executive Officer. "This award expands Lindahl Reed's experience addressing decarbonization, electronification, and reduction of greenhouse gas emission requirements associated with operations at Marine Corps installations.
Lindahl Reed is an SBA certified 8(a) participant, SDB, WOSB, and EDWOSB that provides program management, engineering and technical, and management services to federal, state, institutional, and commercial customers.  We offer expertise in the health, energy, and environmental markets.  Lindahl Reed was founded on the belief that we can advance a safer, healthier, and more resilient and sustainable world. Our solutions keep our homeland secure, make our communities healthier, increase energy resilience, and help to protect our environment.